项目位于新建成的MPP大楼中,形状复杂,富有趣味。人们很难在这里找到一片平的墙面,倾斜的承重柱使得空间在垂直方向上相互交织。这是业主委托Formafatal事务所为Natural Medicine设计室内空间时提供的任务书中的描述。
An interesting but intricately shaped space in the new MPP building, where you can hardly find a flat wall in the floor plan and the space is vertically interwoven with inclined load-bearing columns – such documents were received by the Formafatal studio together with the assignment for the interior design of the Institute of Natural Medicine.
▼等候区,倾斜的柱子
waiting area with inclined column ©BoysPlayNice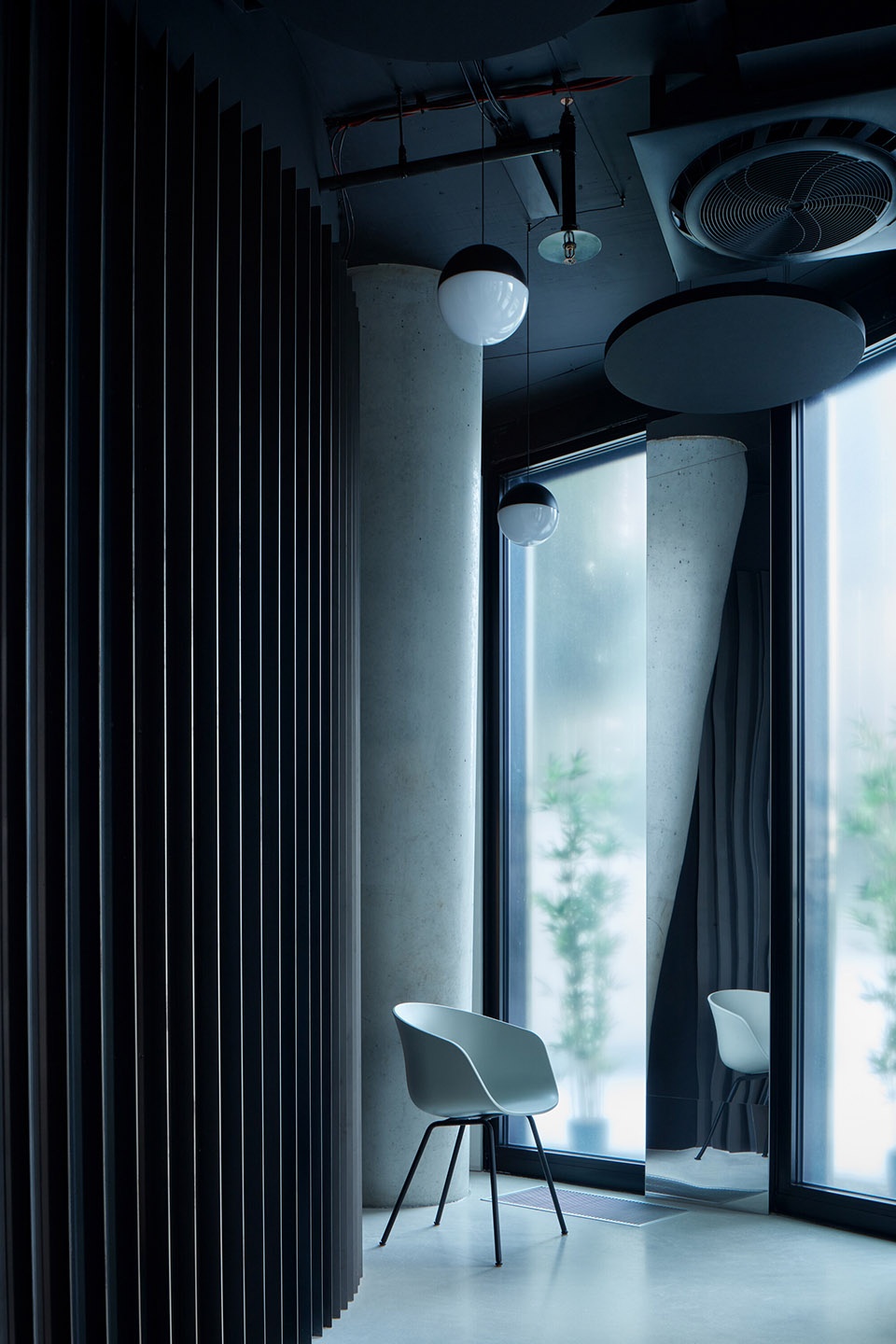 设计在作为等候室的前厅中植入了一个单独的圆形单元,作为医生的办公室。护士工作的接待区位于入口处,SPA则是这个155平米项目中的主角,包含独立的衣帽间,以及芬兰桑拿、冷疗、气疗等护理空间。
A separate circular cell (doctor's office) is inserted into the entrance foyer, which also serves as a waiting room. The reception with the nurse is located at the entrance and the main part of the whole area with a total area of 155 m2 is the so-called SPA, in which, in addition to separate locker rooms, there are accompanying treatment procedures – Finnish sauna, cryosauna and air therapy.
▼圆形的医生办公室,circular doctor's office ©BoysPlayNice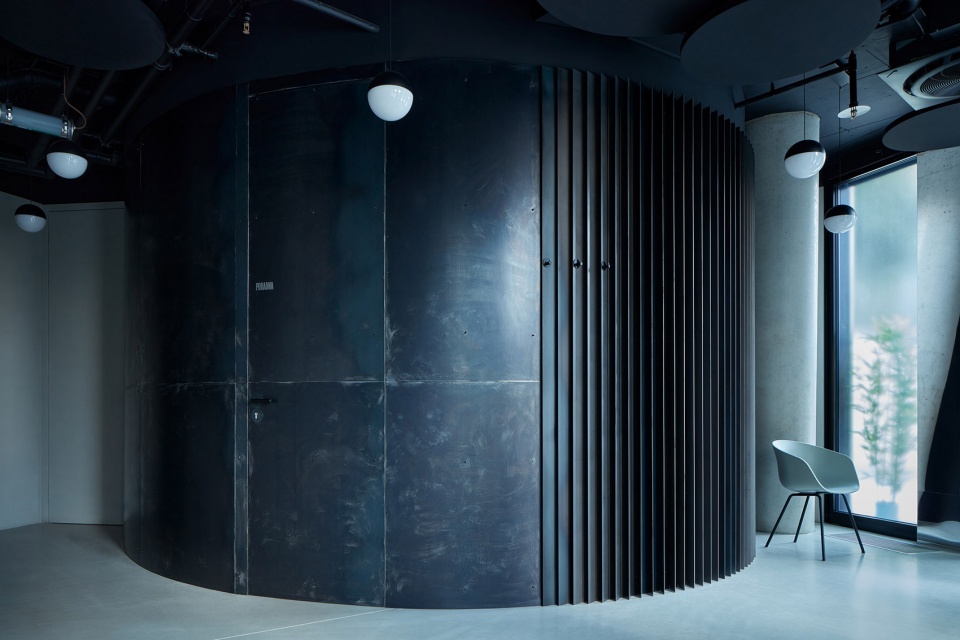 通过柔软的墙体形状,设计强调了墙面的简洁与想象力。黑暗的色调和光滑的砂浆与日光一起突显出空间的趣味性,护士和医生的办公室则采用较浅的颜色,避免分散游客的注意力。治疗室外层设置一排垂直钢板,逐渐向下折叠过渡到平整的门板。这种垂直性是对DAM architects设计的MPP大楼立面的呼应。
Due to the soft shaping of all walls, we emphasized the simplicity and at the same time the imaginativeness of the surfaces and wallcovering during the design. Dark tones and smooth on surfaces together with daylight significantly underline the playfully modeled space, while we left the nurse's and the doctor's office in soft light shades that do not distract the visitor. The outer shell of the surgery is lined with vertical steel plates, which gradually fold down to a flat smooth cladding with integrated doors. The verticality of the cladding is a reaction to the facade of the MPP building (DAM architects).
▼办公室外层的垂直钢板,outer shell of the office with vertical steel plates ©BoysPlayNice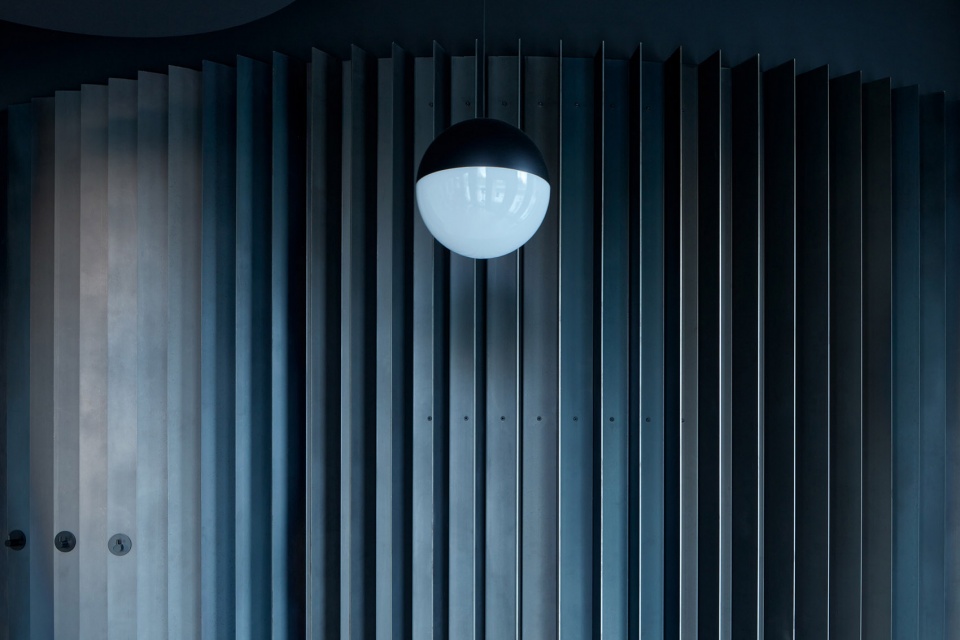 ▼浅色的办公室内部,interior of the office in light tone ©BoysPlayNice
SPA区域延续了垂直网格的设计原则,三个主要房间的地台上设置颜色渐变的玻璃棒,无需向顾客描述每个房间的功能,他们就可以通过色彩来判断。桑拿是火焰的红色,冰疗是冰块的蓝色,气疗则为风的灰色。
We continue with the principle of a vertical grid in the SPA section, where we lined each of the three main rooms with clear glass rods on gradient SDK partitions with gradient screed. There is no need to describe the purpose of the room to customers. The color itself defines the content. Sauna as fire (red), cryosauna as ice (blue) and air flow as wind (gray).
▼SPA区外的等候空间,waiting space outside the SPA area ©BoysPlayNice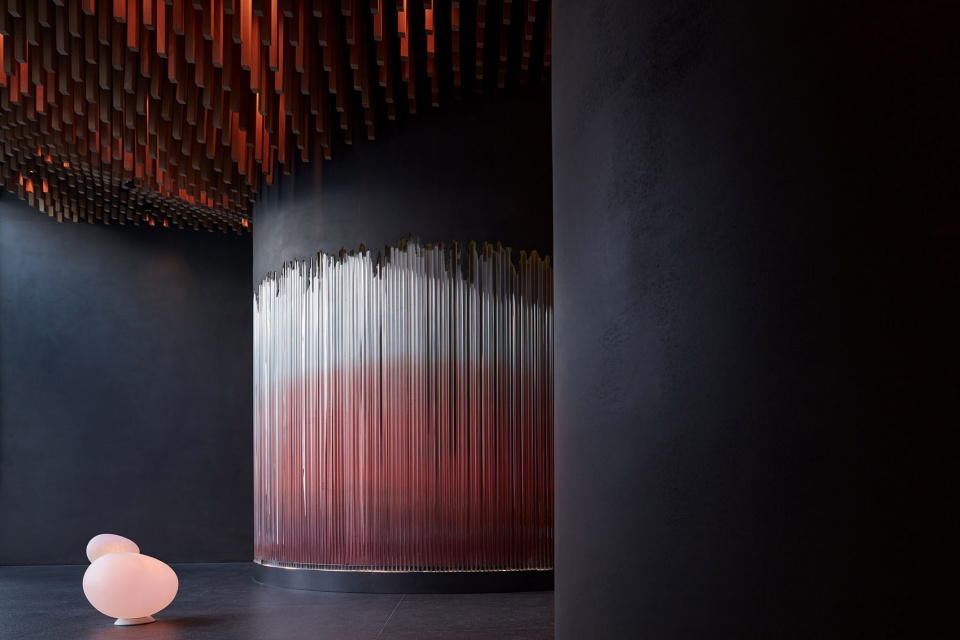 ▼等候空间中的洗手池,wash basin in the waiting area ©BoysPlayNice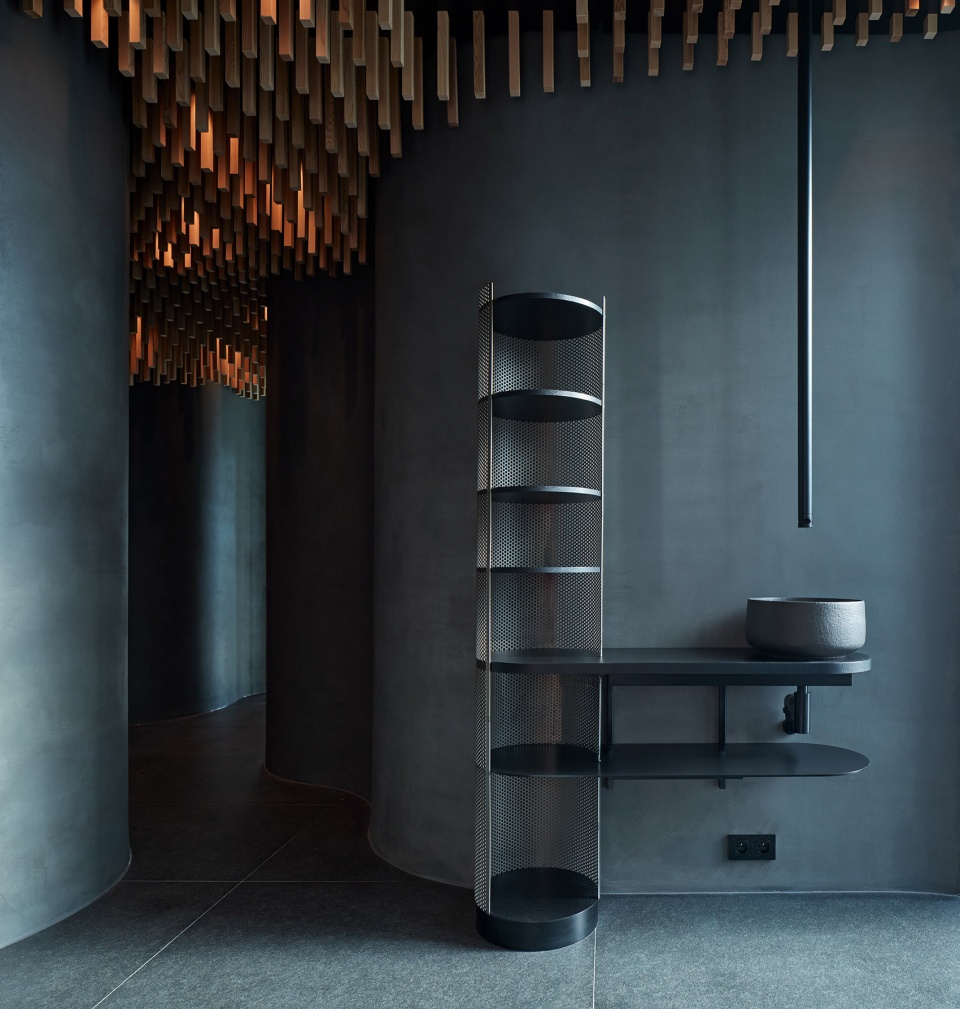 ▼洗手区细部,details of the washroom ©BoysPlayNice
▼三个由玻璃棒围合的房间,SPA area with three rooms enclosed by glass rods ©BoysPlayNice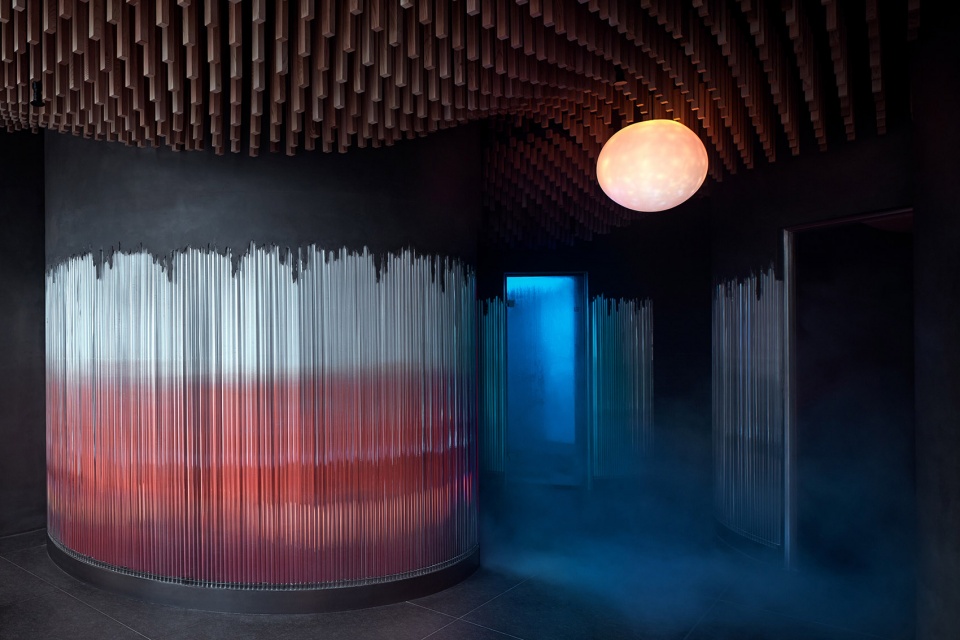 ▼红色的桑拿房,red sauna room ©BoysPlayNice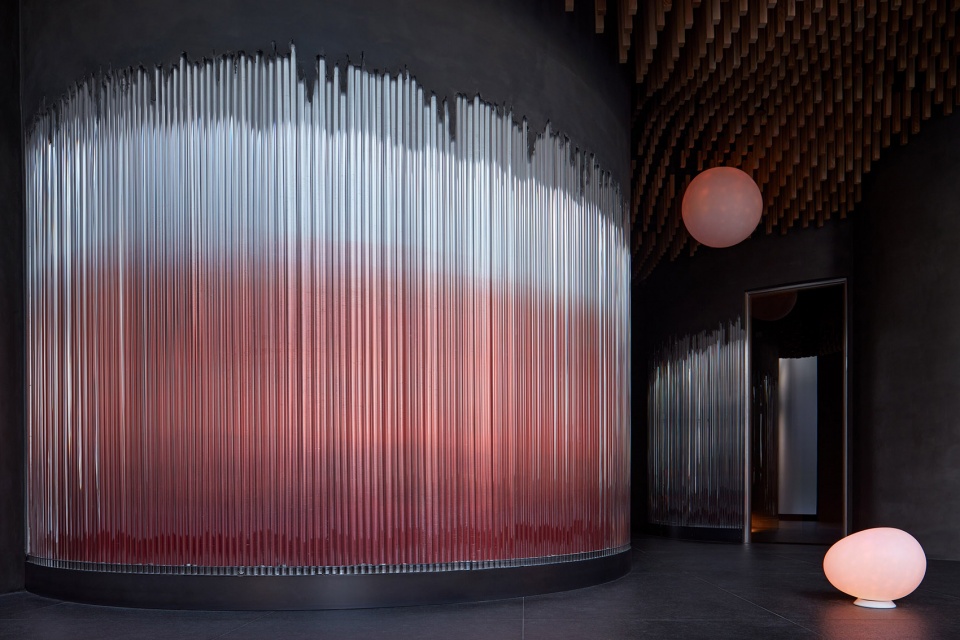 ▼蓝色的冰疗室,blue cryosauna room ©BoysPlayNice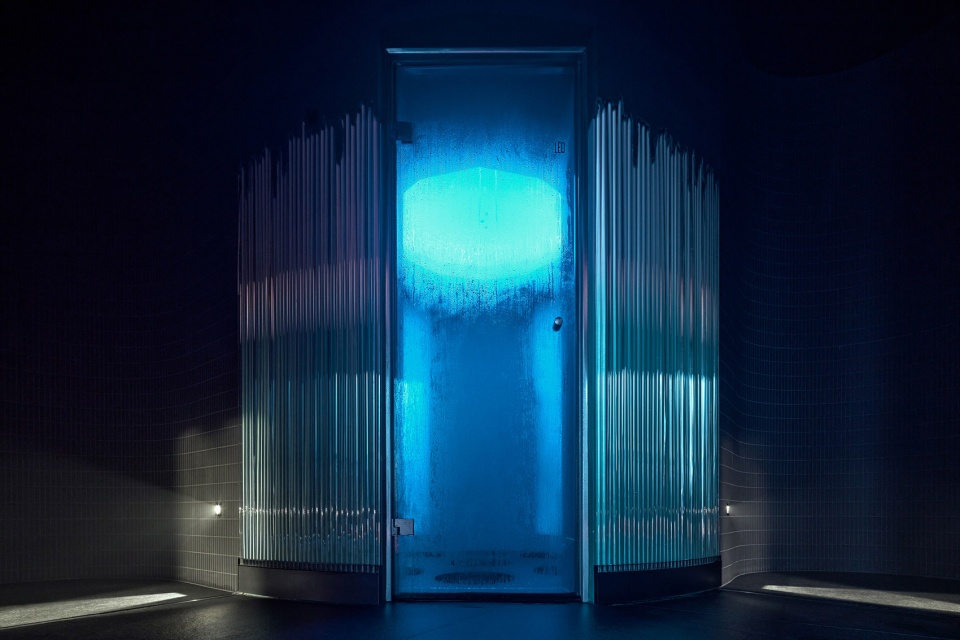 ▼灰色的气疗室,grey air therapy room ©BoysPlayNice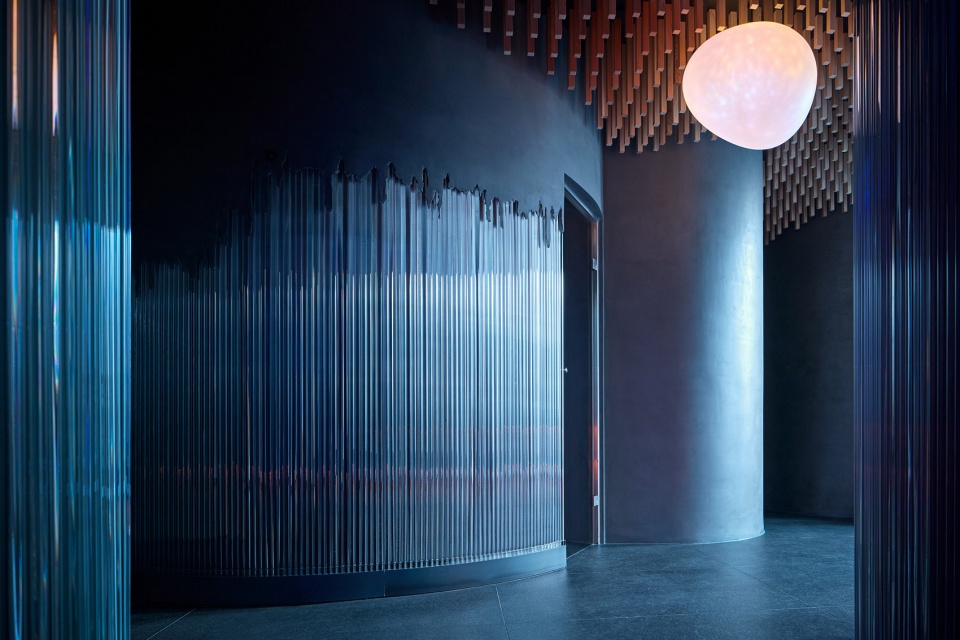 ▼玻璃棒细部,details of the glass rods ©BoysPlayNice
半圆形的穿孔金属板后设有背光,照亮了圆形的衣帽间,在其中形成垂直条纹式的光影。设计以不同的材料和形式重复着同样的原则,将室内空间变成了一个和谐的整体。
Using a semicircular back made of perforated backlit sheet metal next to the mirrors, we lit up the small circular locker rooms into a play of light and shadow, again with a grid of vertical strips. We repeated all these principles and materials in other modified forms throughout the interior to achieve a harmonious whole.
▼弧形墙面和走廊
corridor and curved walls ©BoysPlayNice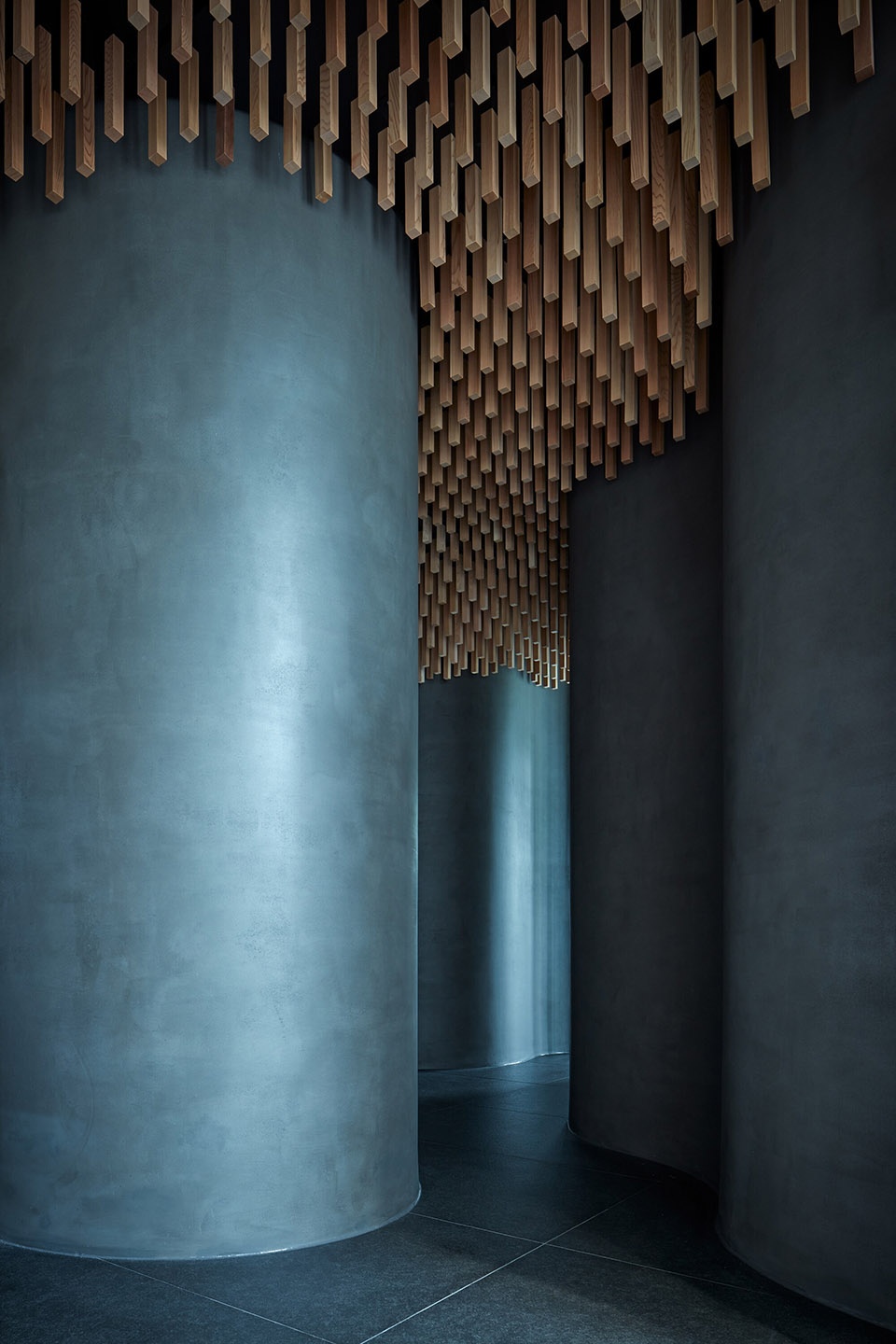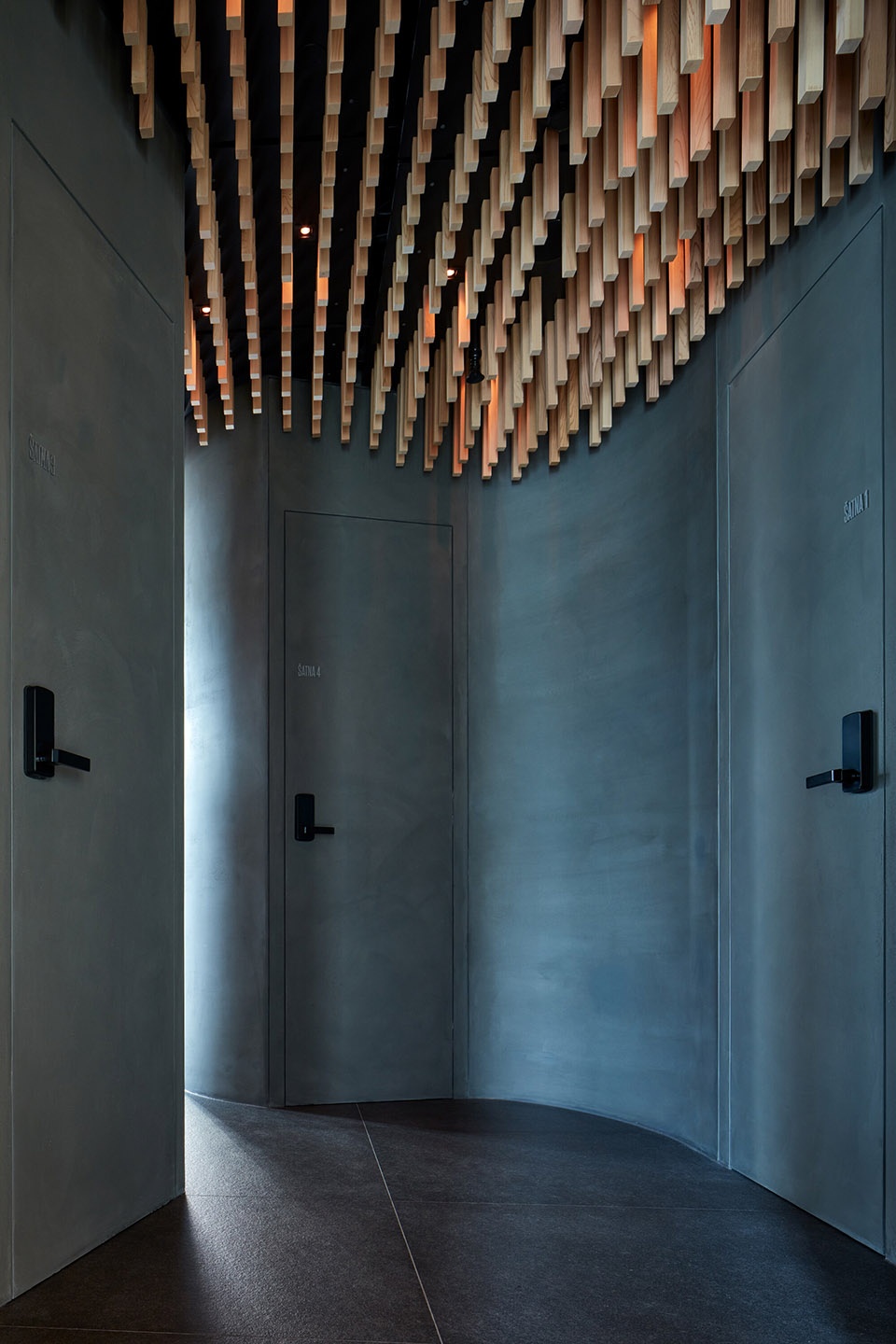 ▼衣帽间,locker room ©BoysPlayNice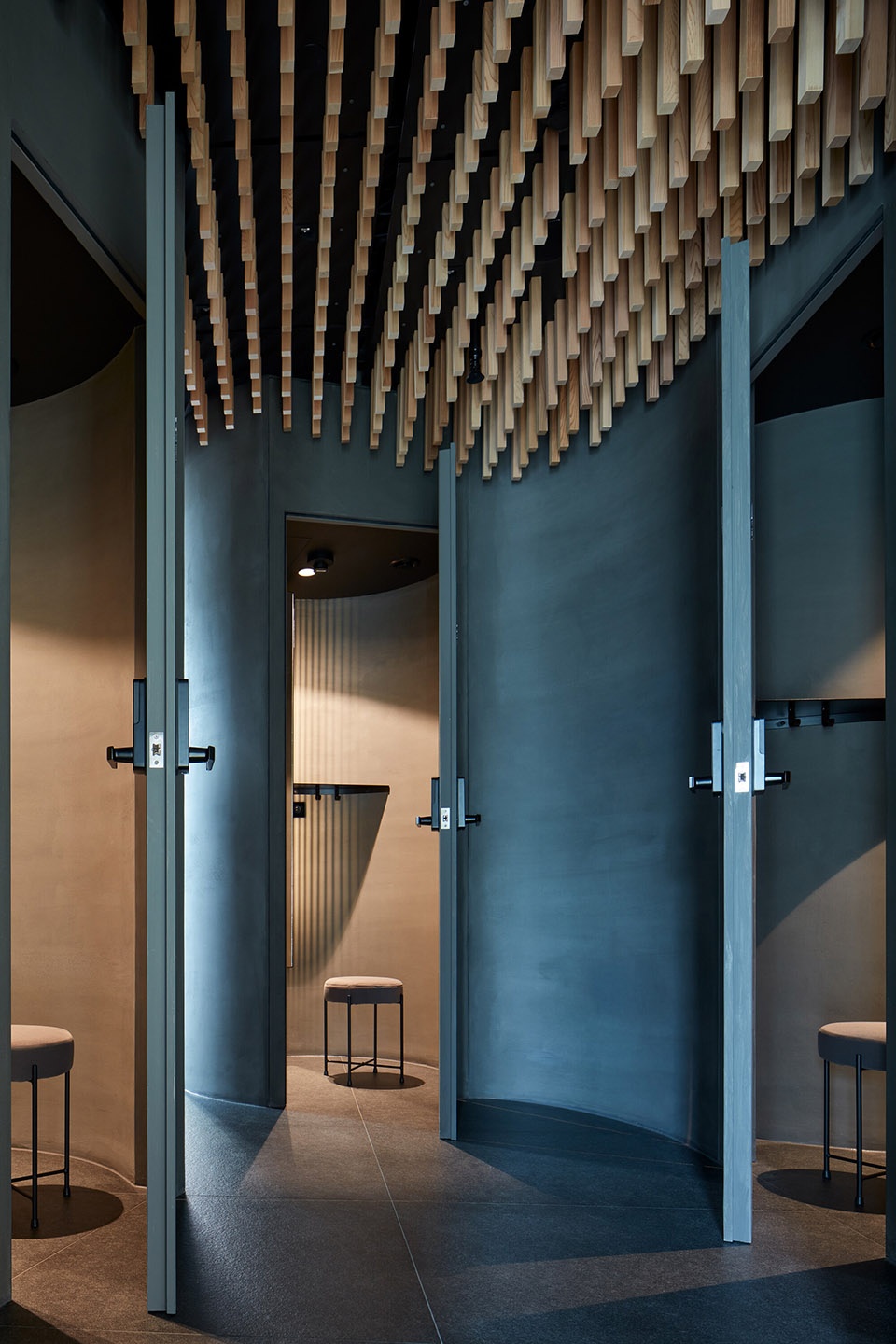 ▼垂直线条光影
light and shadows of vertical stripes ©BoysPlayNice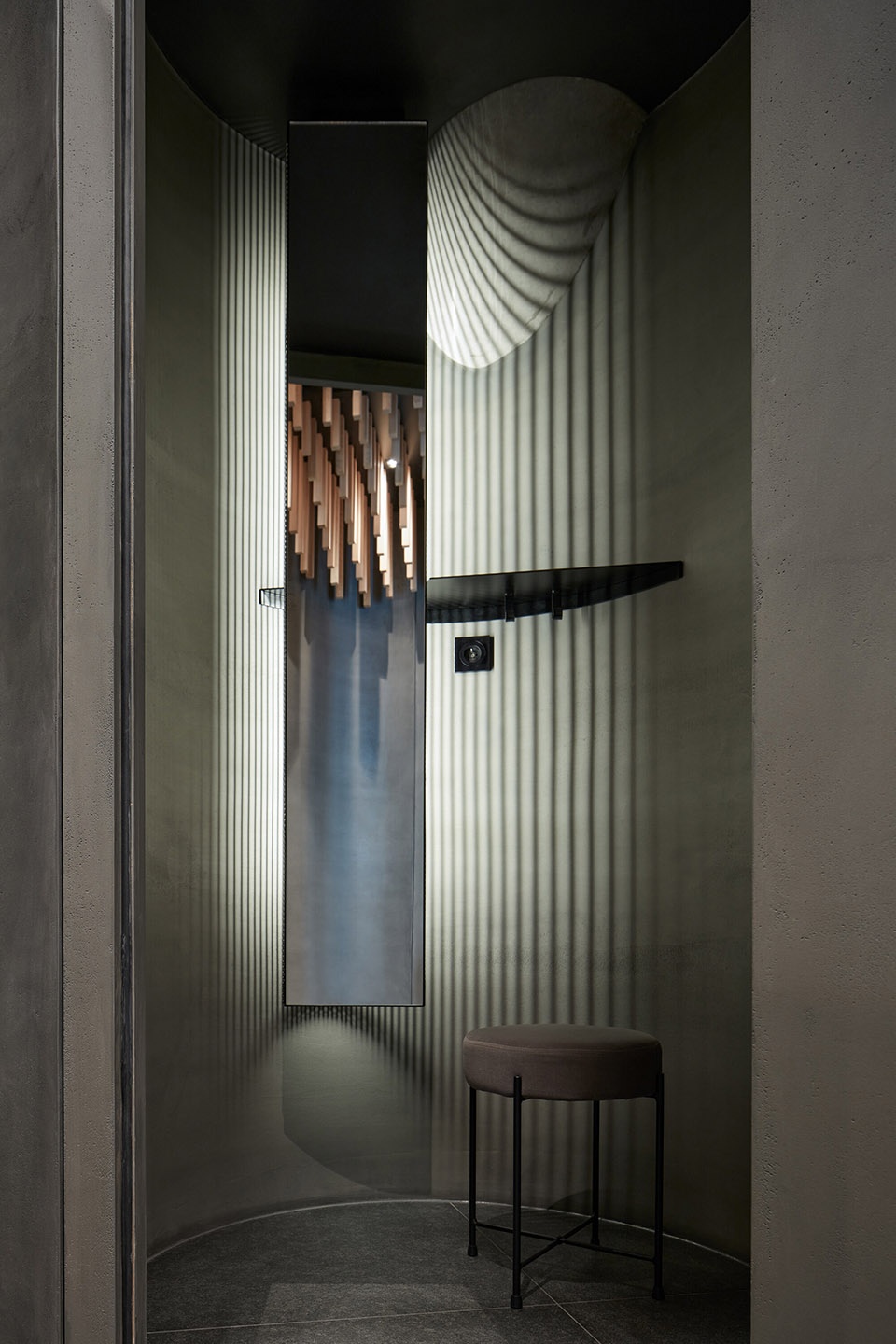 ▼带背光的半圆形穿孔金属板细部,details of the semicircular perforated metal sheet with backlit ©BoysPlayNice
▼洗手间,toilet ©BoysPlayNice
▼平面图,plan ©Formafatal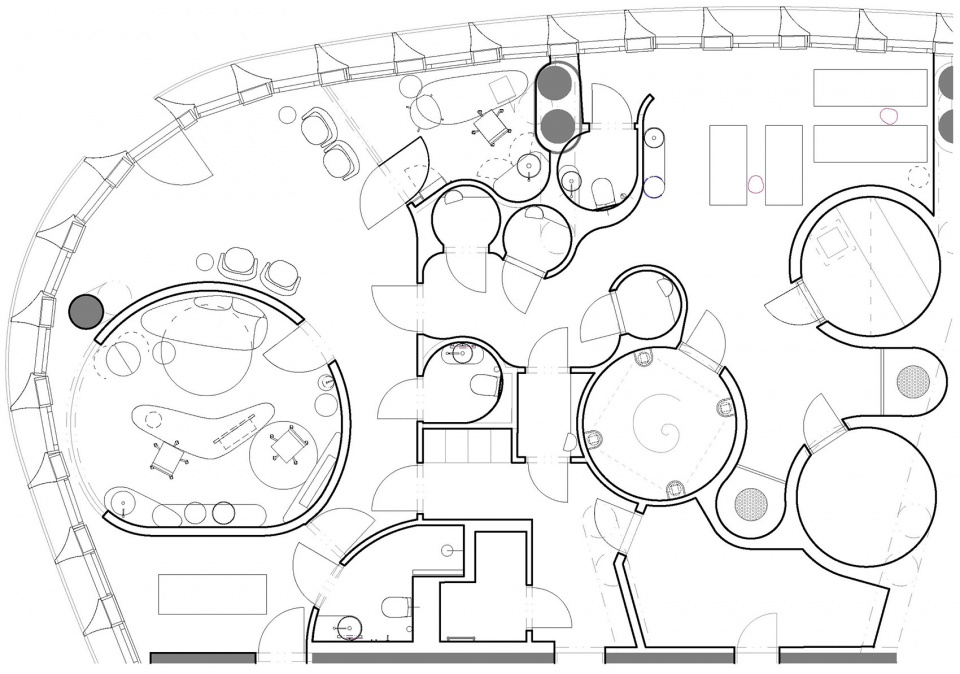 ▼SPA区平面图和立面图,plan and elevation of the SPA area ©Formafatal
▼洗手区平面图和立面图,plan and elevations of the washroom ©Formafatal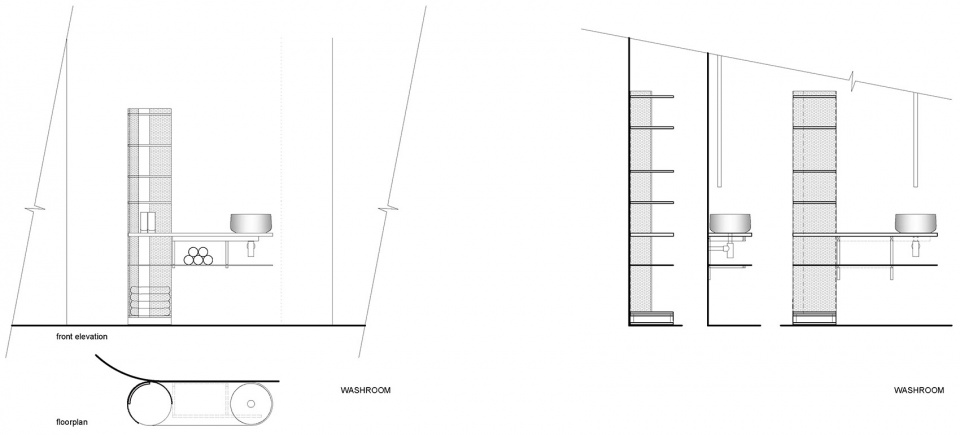 ▼医生办公室立面图,elevations of the doctor's office ©Formafatal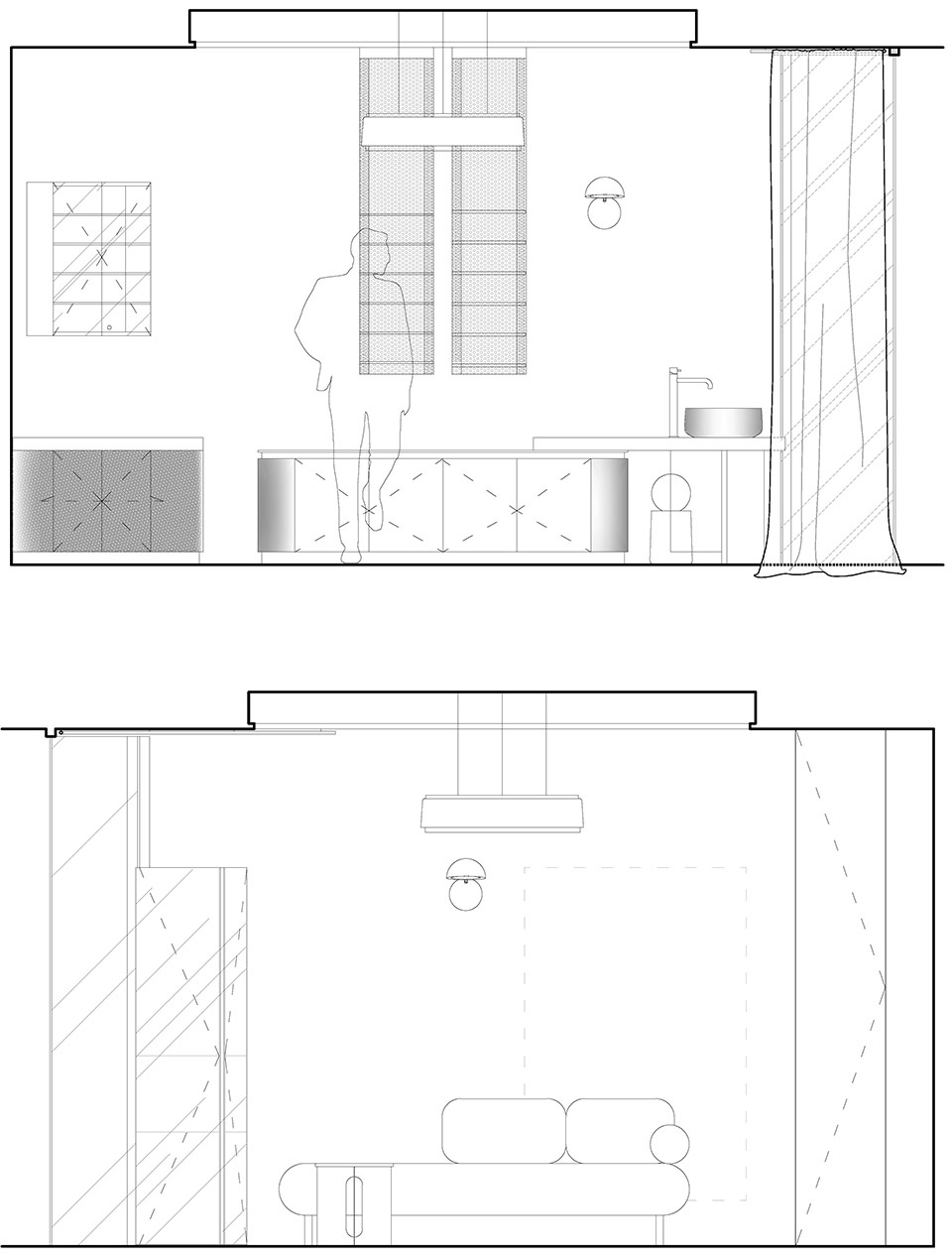 ▼护士办公室立面图,elevations of the nurse counseling ©Formafatal
▼厕所立面图,elevations of the toilet ©Formafatal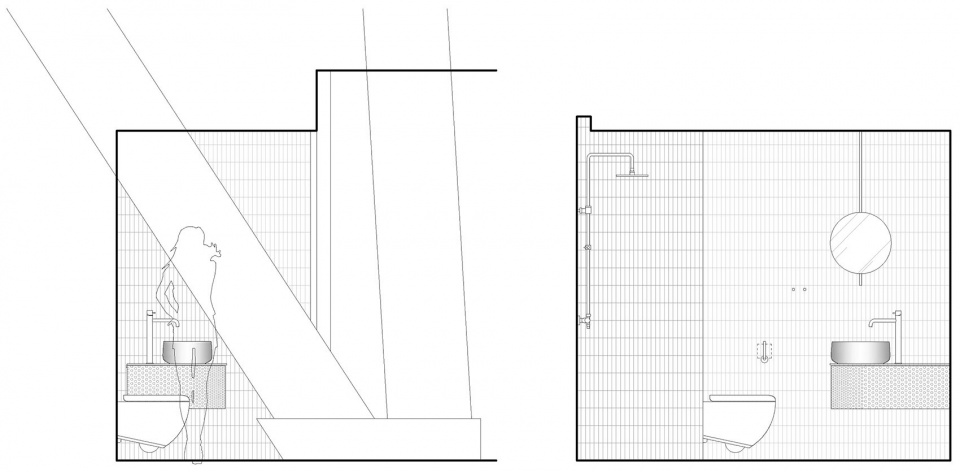 Studio: Formafatal
Author: Dagmar Štěpánová, Martina Homolková
Contact E-mail: formafatal@formafatal.cz
Website: www.formafatal.cz
Social media:
ww.instagram.com/formafatal
www.instagram.com/formafatal.studio
www.facebook.com/formafatal
Studio address: Jaromírova 29, 128 00 Prague 2, Czech Republic
Project location: Main Point Pankrác, Prague 4
Project country: Czech Republic
Project year: 2019
Completion year: 2020
Usable Floor Area: 155 m²
Photographer: BoysPlayNice, info@boysplaynice.com, www.boysplaynice.com
Collaborator
Screed surfaces: Different Design, www.different-design.cz
Glass bar wallcovering, tailor made furniture according to the Formafatal design: Hast, www.hast.cz
Lighting planification, supply of luminaires: Bulb, www.bulb.cz
Materials
ground concrete – floor
granite stone – floor
cement screed – wall surfaces
steel (ZTV) – wallcovering, furniture according to the author's design
stainless steel (perforated sheet) – furniture according to the author's design
stainless steel (super-mirror) – column covering
varnishned MDF board – furniture according to the author's design
ceramic tiling – wallcovering
glass bar – wallcovering
solid oak – ceiling
Products and Brands
pendant lights String Light Sphere — FLOS\www.flos.com
chairs AAC 26 — HAY\www.hay.dk
pendant and floor light GREGG lamp — FOSCARINI\www.foscarini.com
sanitary (washbasin, toilet) lavabo COGNAC 35, VASO FILE 2.0 — THE.ARTCERAM\www.artceram.it
ceiling basin battery TIME 2020 — BONGIO\www.bongio.com
©版权申明:宙书网旨在传播国内外优秀文化艺术,所有资源版权归属原作者所有,转载或资源版权问题请联系作者。——欢迎投稿。